Field of Research
The production of security in local areas is constantly changing. Since a couple of years this undergoing change is discussed under the term pluralisation which is particularly affecting policing. In the context of PluS-i, policing means a) patrolling in person and/or b) guarding in person and/or c) visible technical surveillance of public or semi-public spaces as well as measures directly resulting therefrom. Policing refers to the task of maintaining or achieving security and order, regardless of how and by whom security and order are defined. Plural policing is defined as the coexistent and/or cooperative policing of at least two different distinguishable stakeholders in congruent, overlapping or continuous areas of competences.
Nowadays, plural policing in urban areas is a common phenomenon which can be characterised by the following four observations:
Pluralism of stakeholders
Plural policing is characterised by a variety of public, private and civil stakeholders complementing the police as conventional and traditional provider of policing.
Pluralism of competences
Plural policing contains a vast spectrum of stakeholder competences ranging from limited private to wide ranging sovereign responsibilities.
Pluralism of topics
Plural policing deals with a multitude of police as well as non-police relevant issues such as aspects of public order and social phenomenons.
Heterogeneity of pluralism
From municipality to municipality, plural policing differs in stakeholder constellations, structures, practices and processes.
Our Team
The PluS-i junior research group members are representing complementary scientific disciplines ranging from sociology, criminology, political science, social science to economic science. The subject of plural policing is studied in close cooperation with practitioners and their experiences.
Einblicke in das PluS-i Projekt Vier Jahre Datenerhebung im Rahmen des PluS-i Projektes neigen sich langsam dem Ende zu. Das möchten wir zum Anlass nehmen und Ihnen einen kleinen (zahlenmäßigen)[…]
Read more
---
Am 4. und 5. März 2021 fand die Nachwuchstagung der empirischen Polizeiforschung statt (https://empirische-polizeiforschung.de). PluS-i war hier durch Frauke Reichl und Sigrid Pehle vertreten, die sich in ihrem Vortrag mit[…]
Read more
---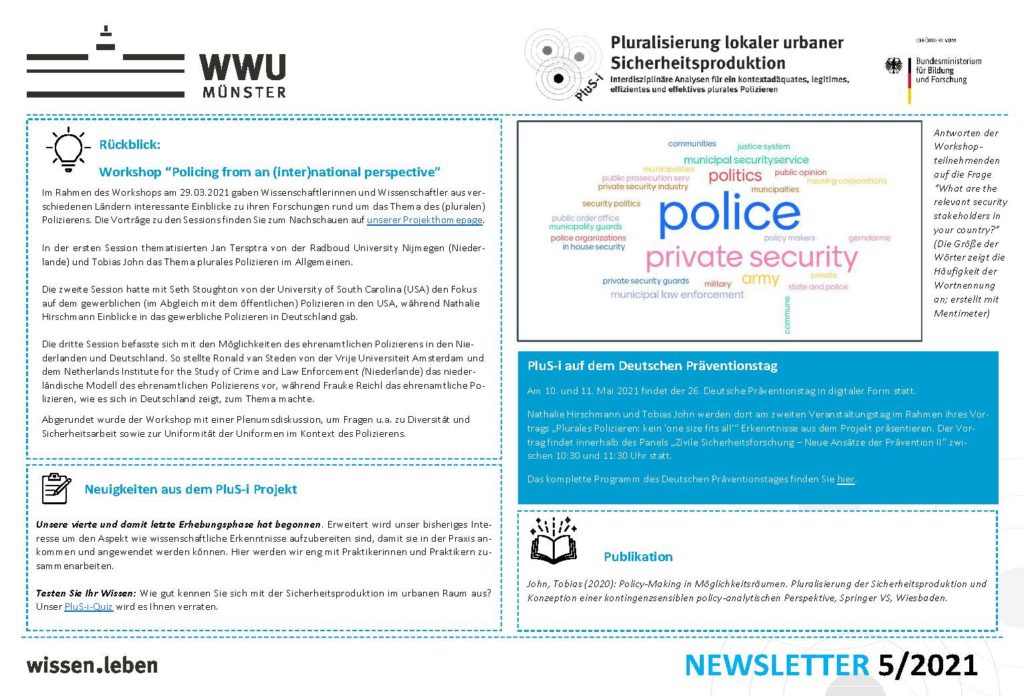 Unseren neusten PluS-i Newsletter mit interessanten Einblicken und aktuellen Informationen rund um das PluS-i Projekt können Sie hier herunterladen.
Read more
---
Contact information
Junior Research Group PluS-i
University of Münster
Institute of Political Science
Scharnhorststr. 100
D-48151 Muenster
Room 801-803
plusi[at]uni-muenster[dot]de
/